History
Heintz & Weber Co., Inc. was founded in 1922 at the Broadway Market by Joseph C. Weber and John Heintz. Heintz, no relation to the HJ Heinz Company of Pittsburgh, was bought out in 1926 by Weber, and the company has remained family owned and operated ever since.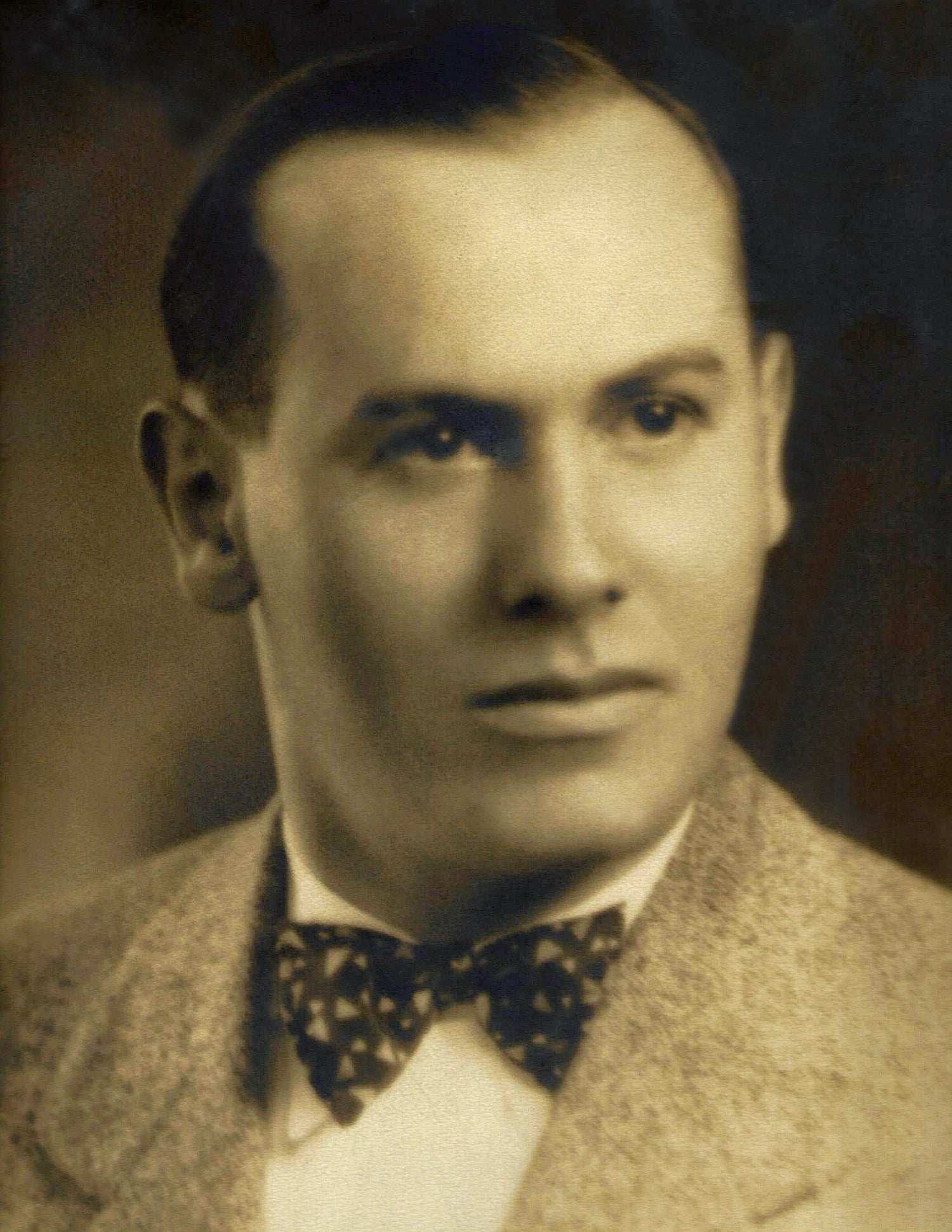 Founding Father
Born in 1900 in Vienna, Austria, Joseph Weber moved to Buffalo, New York in 1907 with his family. His father, Adolf Weber, immigrated to Buffalo two years prior to the rest of his family in search of work. Joseph Weber, at the age of 22, entered the food business. In the late 1930s, after starting out at the Broadway Market, his company moved to a four floor manufacturing facility at 358 Louisiana Street in South Buffalo. Known as the "pickle plant" throughout the '30s, '40s, and '50s, Mr. Weber gained notoriety and success by supplying more than 300 mom-and-pop delis throughout Western New York with more than 80 products. His line of products included 10 varieties of pickles, along with olives, sauerkraut, and even prune butter; but his baby product, Weber's Brand horseradish mustard, became the foundation for his pride and quality. Weber also created the slogan and musical jingle, "A Pickle in the Middle and Weber's on Top", a major slogan for Heintz & Weber Co., Inc. from the 1920s to early 2000s.
Prior to his employees getting to work every morning, Weber would prepare the horseradish mustard's secret recipe that would be used for production the very same day. He kept the recipe from everyone and prepared the recipe himself for many years.
In the photo above, Joseph Weber can be spotted on the right at the Broadway Market in the 1940s as the only man with a cigar and wearing a bow tie.
Small Beginnings
This image is believed to be the oldest photograph of Weber's mustard. Dating back to the early 1930s, Weber's Brand products are shown being sold at Sattler's, 998 Broadway, Buffalo.
Hand Packed until 1980
Much of the company's appeal lies in the products' tradition, classic yellow color, and timeless gourmet flavor. Weber's Brand horseradish mustard has been a secret family recipe since its inception, and until 1980, every jar was individually packed and hand labeled.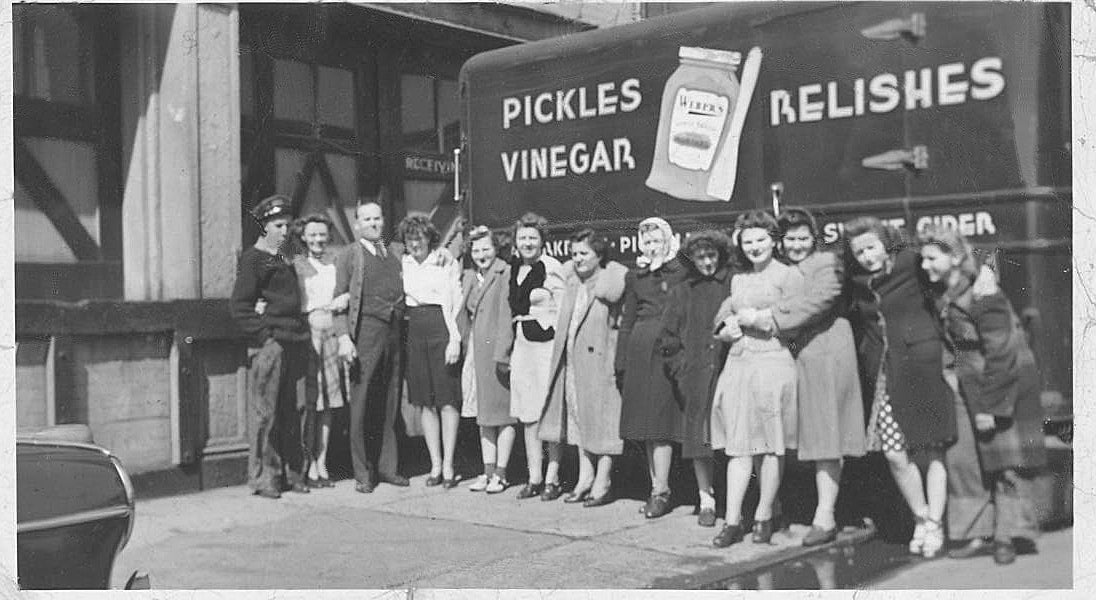 Pickle Plant
With such great business derived from its staggering volume of pickles and vinegar sold, some people referred to the "mustard company" as the "pickle plant."
At one point, the company had 8 trucks designed for the delivery of product to markets and delis throughout the Buffalo area.
Over 80 products and 50 Employees
Heintz & Weber Co., Inc. always had its famous Weber's Brand horseradish mustard, but at one point the company had everything from pickles and vinegar, to sauerkraut and chili sauce, and at one point even catsup.
Records from the early 1940s show the company employed over 50 people.
Hardship
Due to the sudden passing of his only daughter in 1982, Ruth Weber, and his own passing in 1984, Mr. Weber left control of the company to his two granddaughters, Suzanne and Laura Weimer. His granddaughters at the time were too young to take on such a company, so their father Eugene Weimer oversaw its functions.
This image shows Ruth Weber in the 1950s at a Weber's market stand.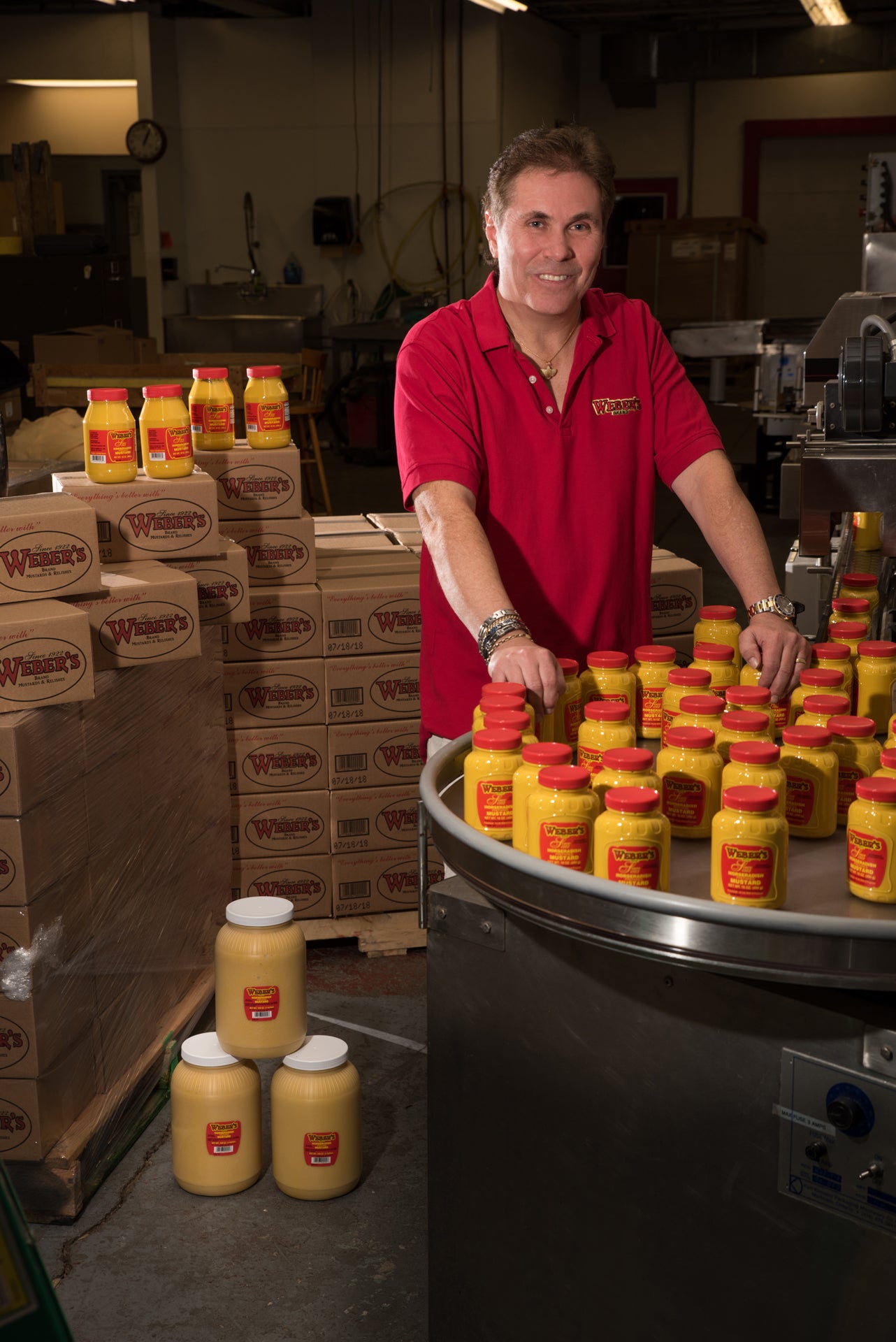 New Faces
In early 1997, Suzanne and her husband, Steven Desmond (pictured), took control of the day-to-day operations. Laura Weimer Perino remained the majority co-owner and a member of the Board of Directors. As her career path led her to Toledo, Ohio, it made it very difficult for her to be involved with everyday company operations. The new management promised they would continue the small company traditions, appeal, and personality that has made Weber's mustard #1, while striving to build concrete sales regionally and beyond. A new look to each product, three new mustards, modernized production operations, and a manufacturing facility change in late 2002, began to fortify this promise to continue its tradition into the next generation.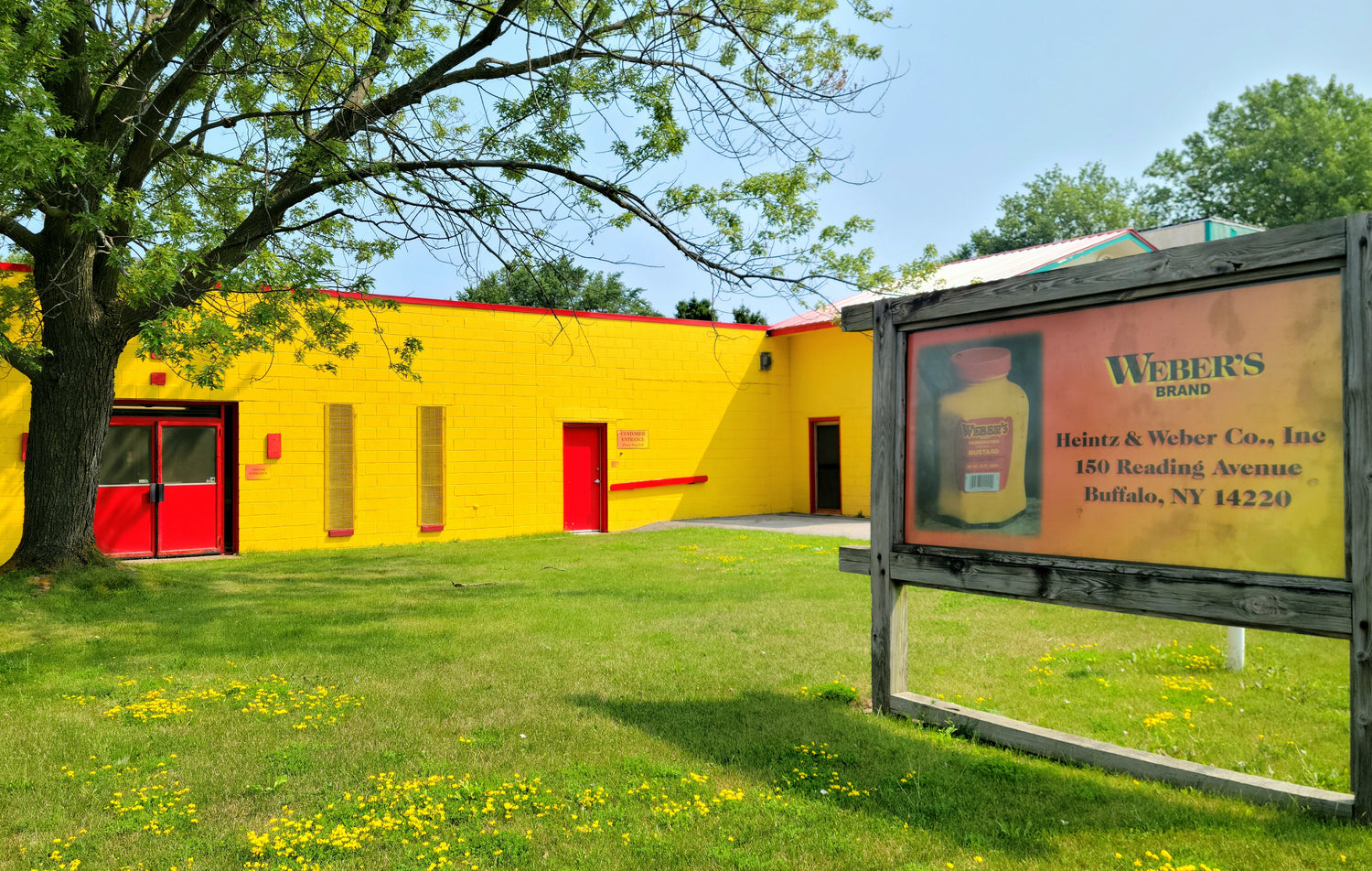 Big Steps
On November 25th, 2002, Heintz & Weber Co., Inc. moved from 358 Louisiana Street to a new essential manufacturing plant at 150 Reading Street in South Buffalo. Since the transition, the company has been much more efficient in its modernization and production endeavors.
The new building was dedicated to Charles Mitchell for more than 50 years of service with the company (1953-2004).
In 2006, Suzanne (pictured) and Steven Desmond became 100% owners of Heintz & Weber Co., Inc., once again keeping the company locally owned and family operated.
Giving Back
In 2007, Suzanne and Steven Desmond's first son, Francis, was diagnosed with Duchenne Muscular Dystrophy. With the introduction of Desmond's book "A Life With A Purpose" and the Weber's Brand 3 Pack, which donates at least $0.50 every pack sold, over $25,000 has been raised for Parent Project Muscular Dystrophy (PPMD) and the Muscular Dystrophy Association (MDA) through 2022.
A New Look
In a 2011 sales report, Weber's horseradish mustard was ranked the #1 selling mustard in the Buffalo-Niagara region, #3 in Buffalo-Rochester, #13 in the Northeastern United States, and #31 in the continental United States.
After restructuring years through the 2000s, a new company jingle, "Everything's Better with Weber's", and new Weber's Brand logo were released to highlight the company's longevity. With its backing of advertisement to promote sales growth, the company began reaching a new customer base, both locally and throughout new territories in upstate New York.
Check out the jingle ↓
"Everything's Better with Weber's"
Latest Additions
After many years of using SUVs to transport product to small regional accounts, the company invested in a brand new Weber's Brand delivery truck in 2020. The Desmonds commonly refer to it as the "Weber's Mustard Mobile."
In late 2021, for preparation of the 100 year anniversary, Heintz & Weber Co., Inc. hired local artist Tim Martin to design a mural on the front of the manufacturing facility as seen below.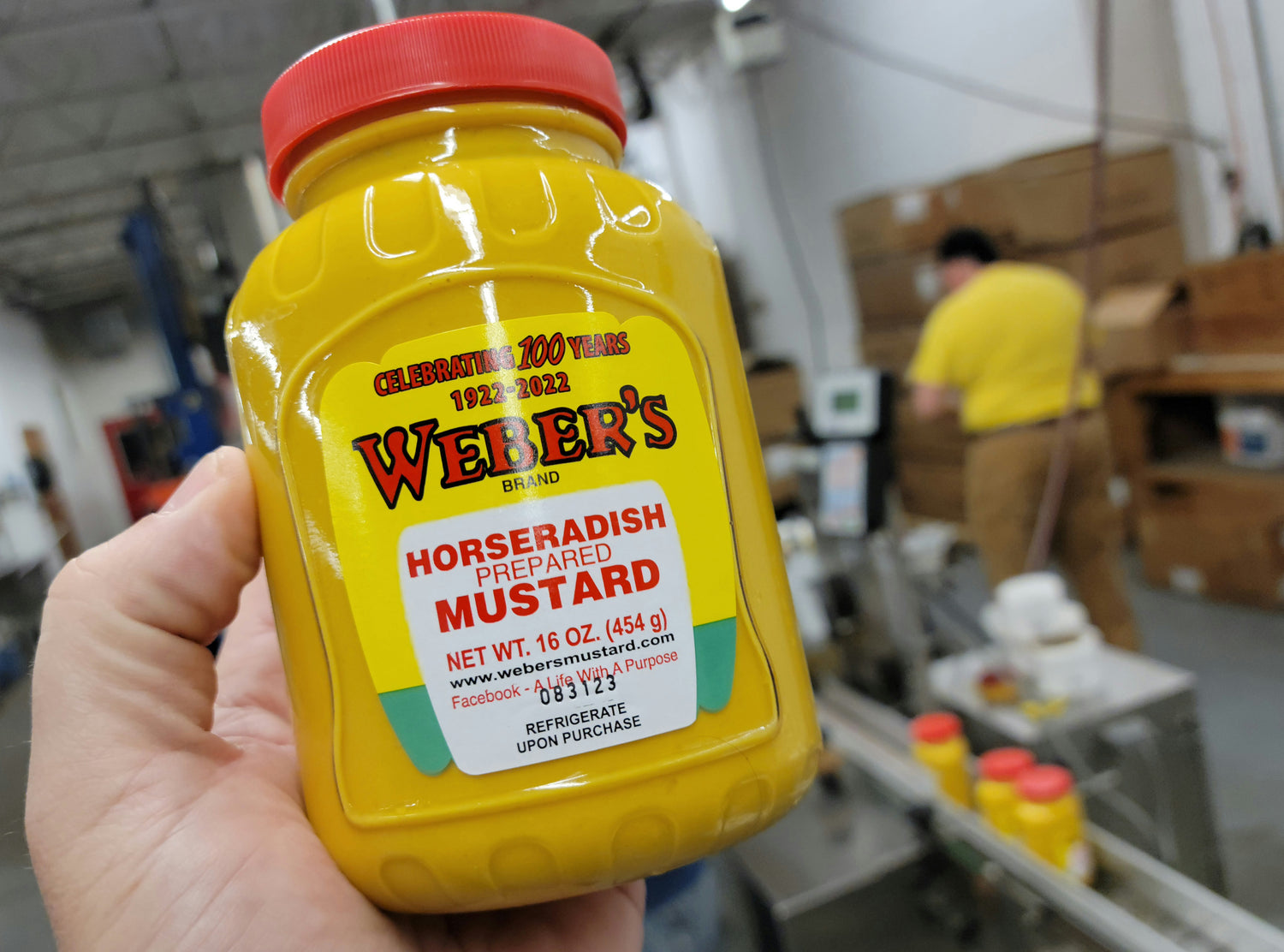 100 Years
With the help from the dedicated local community, the Heintz & Weber Co., Inc. reached its centennial anniversary in 2022. During the anniversary year, the company reintroduced the old-fashioned Weber's Brand horseradish mustard label for a single calendar year. The company also sent out 100 individual jars to regional store shelves, signed by the owners themselves, for their appreciation.
The Next Generation
Recently in July of 2023, the 4th generation has made its first steps into the business. In the past, Luke Desmond (pictured) and Zoey Desmond, worked in production throughout summers and breaks between school. Both, son and daughter of Suzanne and Steven Desmond, have taken part in promoting product, modernization of the business, and have even worked food stands at the Broadway Market and New York State Fair. A recent change in career path led Luke to becoming the future of the company. Through new eyes on the business and the ever-changing structure of today's marketplace, Luke hopes to keep the quality of company image and great Buffalo-made food products alive with continuing expansion efforts. He looks to the future, with hopes in making Weber's Brand products affordable, yet accessible throughout the United States and one day, the world.
Today, Heintz & Weber Co., Inc. produces more than 40,000 cases yearly across 18 different products and are sold to consumers throughout America and beyond to former Buffalonians who can't live without their Weber's. In recent years, our fans of "classic yellow" specialty mustard lovers have been turning the tradition over to their new friends and neighbors. Now over 100 years later, Weber's mustard remains the #1 selling mustard in Western New York. Our online order sales continue sustained rates of yearly growth, with more and more orders coming from first-time Weber's fans.
We continue to strive for new and modernized platforms to provide Weber's products to consumers through stores and markets throughout the United States and online resources for the world. We hope one day everyone will have the ease and opportunity to try Weber's Brand products.
We thank the "city of good neighbors" for their love and support. Without our fans, our company would be nothing. Your appreciation does not go unnoticed.